PA VFW District 27 and WCVWOT will be holding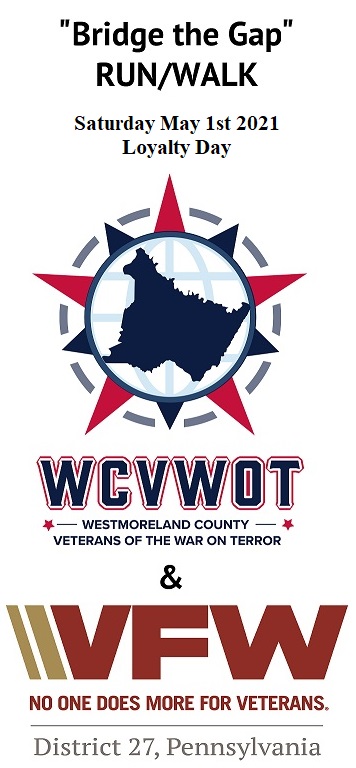 "Bridge the Gap" RUN/WALK
Saturday May 1st 2021 Loyalty Day.
All funds raised will go to the Construction of the new War on Terror Memorial "Patriot's Day Plaza" at Twin Lakes Park, Greensburg, PA
All Participants will receive a Tee Shirt and Goody Bag.   
Become a Sponsor of this event for $100 and get your Business Name on the back of the shirt.  
Have a trinket to give: pen, water bottle, coupon etc.  Please donate toward the Goody Bag. Item Donation, contact your local VFW.
Sponsor:
Name of Business/Individual 
Contact Name 
Email 
Phone 
Address 
Make your Donation check to VFW District 27 and send along with this Form to :
Joseph Zelenak
Mt. Pleasant VFW Post 3368
416 West Main St
Mt. Pleasant, PA 15666